Welcome to Fragona International, your one stop shop for all your requirements of .
We do hope that you find what you are looking for. If not, please contact us, either by clicking on the 'Contact Us' link above or by clicking here.
Rest assured, that our products would meet your expectations.
Currently, all our sticks are in 8 and 9 inches length, but we can make sticks for you according to your requirement.
Fragona International is a leading player in the incense industry in India. The incenses of Fragona international symbolize the trained perfumery craftsmanship. Our innovations have added new meaning to fragrances.

We can make packing according to product orders. As an incentive to repackers, we plan to introduce original supplies of some of our products, which have held crowning glory in the market, for bulk re-packing.

We can also custom make any type of incense sticks with any fragrances according to your requirement.

Our Incense sticks are hand rolled with pure natural ingredients to give you one of the best fragrant experiences from India. These sticks are eco friendly and give a much better fragrance spread than the sawdust based type sticks made in the Far East. The finish product of our Incense are Seal tightly to protect freshness and can be kept for up to 1 year.
The Scented sticks are the more common type of sticks used. The sticks are first hand made and then the scent is blended into the sticks, allowing a wider range of scents to be applied to the sticks. These sticks are used in the following product ranges-
Roop Kamal

With the fragrance of Brahma Kamal - the celestial flower, which is offered to the gods also known as 'Lotus of the Gods', found mainly at Roop Kundu of Valley of flowers a vast concave valley of Himalayas at 14000 FT height. The Roop Kamal Incense sticks are so heavenly scented with the natural fragrance of Brahma Kamal that by the smell of its- a person enters into Yog-Nidra in a short time.
Mangal arati

With the fragrance of Arati (Prayer with light & Incense in front of God)- Arati is one of the greatest natural fragrances. Its wisdom is relevant today as it has been through the centuries. The sweet fragrance of Mangal Arati's divine power the sublime glory of its verses, carry the universal and eternal message of hope love and joy of life and purifies inner soul. The fragrance is strong aldehydic floral-Lavender sweet type.
Shiuli

With the natural Essential oil of Coral Jasmine a very fragrant flower native to India, which purifies person heart and mind so that all desires for the world are consumed. The white petals, which surround the orange center symbolic of that pure consciousness & the orange center, represent the Fire. Very strong floral exotic long burning incense.
Sona Champa

With the natural fragrance of Champa- a native strong flower of India, which is diffusive warmth, that is easy to draw in. Mingled its sweet floral essence was a tinge of rich spiciness that give the overall fragrance a complexity that is rare in the realm of aromatic botanical. The effect is uplifting, intoxicating and ethereal.
Chandan (Sandal)

Whether for stress relief after a long day, for meditation, healing or purification? It has a rich blend of ingredients such as Sandalwood oil, Sandalwood resin & powders with rare Himalayan herbs.
Economic variety printed poly pouch or hand made paper flap packing variety which are as follows -

Aroma Therapy Incense - Individual Natural Fragrance oil Incense poly pouch/hand made paper flap Packs. Each pouch contains 20 scented sticks of 9" length. These Incense sticks are made from natural essential oils of particular variety with capturing the delicate sense of nature, have great Aromatherapy value. Available in the following fragrance

Sweet Basil, Cinnamon, Clove, Eucalyptus, Jasmine, Lavender, Lemon, Olibanum, Orange, patchouli, Pine, Rose, Sandalwood, Vetiver, Vanilla, Ylang ylang.

Manjil – With the fragrance of fresh floral Tuberose, which is very intense and lively at a very economical way to enjoy the nature. Each small pouch contains 8 scented sticks of 8" length.

Kanta – The strong aldehydic oriental traditional fragrance odour, which immediately evoke the inner sense for purity. Each small pouch contains 8 scented sticks of 8" length.

Neela – The most interesting fragrance, which is a mixture of strong fruity floral diffusive fragrance at such a low price. Each small pouch contains 8 scented sticks of 8" length.

Nirala – A very sweet aromatic aldehydic fragrance, which is very diffusive and long lasting. Each small pouch contains 50 scented sticks of 8" length.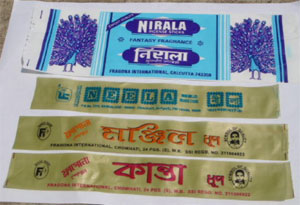 Zodiac+ - The Zodiac+ Incense sticks are made with the following celestial powered essential oil to activate your astrological sign. Each printed poly pouch/hand made paper flap pack contains 20 scented sticks of 9" length. Each of the astrological sign is associated with the particular varieties of fragrances that absorbs the evil power & enlighten mental peace by activating or adding more power to the astrological sign.

Aquarius – Tuberose, Aries – Rose, Cancer – Musk, Capricorn – Sandal, Gemini - Night Queen, Leo – Lavender, Libra – Jasmine, Pisces – Patchouli, Sagittarius – Amber, Scorpio – Cedar, Taurus – Gardenia, Virgo - Lemon Grass. .(COMMON PHOTO)
These are the more expensive variety of sticks. The scent is premixed in the incense paste before rolling along with other natural ingredients to give various unique scents not normally found in the regular sticks. These sticks are used in our following products with printed hand made paper flap type box packing. Each pack contains 20 flora sticks of 9" length -
Vishwaroop

Made with the finest quality of Masala or flora type Incense sticks with selected natural ingredients to cultivate positive state of mind & worshiping. It's strong odor Masking unpleasant smells & refreshes the surroundings. With this, the virtuous ones will experience a higher form of existence and will have all their general and specific wishes fulfilled.
Natural Flora - This is soothing and never overpowering incense which helps to combat depression, irritability, and melancholy with pure herbal effective ingredients. Increase resistant to stress, purify the environment, and stimulate the vital force.

Ananda - This very special incense contain Frankincense, Guggul, lovan, Dhoop to create great peacefulness & tranquil atmosphere, eliminate stressful and negative energies & is noted for "increasing happiness and overall well-being." produces a high spiritual vibration conducive to meditation and prayer.

Mysore Sandal - With pure Mysore Sandalwood for balancing body & mind. Also clear away mental obstruction. Increase positive state of mind & the mode of goodness. Mysore Sandalwood with Herbs in the form of Incense is a balanced blend good for all around use.

Nag Champa - This is slightly sweet, and produces a very smooth and complex aroma. Nag Champa is probably the world's best selling flora or masala incense stick and most popular of the Asian incense. Nag champa also contain strong oriental aphrodisiacs such as musk, amber, ginger, cardamom, agar wood & other rare natural ingredients for ecstasy of mind, body & to live better.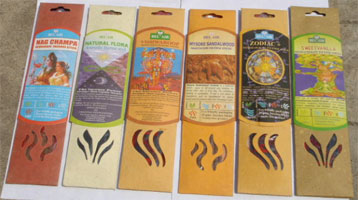 Our unscented Incense sticks (Punk Sticks) are high quality & eco-friendly. Best quality sticks are used to make the sticks stronger. A better quality incense results when Wood charcoal is used instead of unprocessed wood, because charcoal burns cleanly and without an odor of its own, thereby releasing the fragrance, free from any impurities.

The sticks are available from 8- inch and 9-inch length with counting per kilo from 400pcs to 2200pcs. The packing is 1 kg paper wrap & 40 packs in a jute bag.
Incense Packing


12 Premium rectangular printed single boxes are packed in a 1 dozen printed box and 50 dozen boxes are put in a 3 ply corrugated carton.

12 Economic poly pouch or hand made paper flap type single pouch are packed in a printed 3 dozens pack and 100 master packs are put in a carton or bag.

Scented and unscented sticks are packed in 500 grams pack & in one master carton there are 80 packs.

Masala or flora incense sticks are packed in 500 grams
To know more about detail product description of fragona internbational inscence and available inscence fragrances please